AM2 has been designed specially for simple installations and elevators where it's required a particular attention to costs. Ideal solution for rebuilding and modernization, it allows the realization of very small elevator control panels due to its small size. It can be used for both hydraulic and traction lifts with APB or full/down collective operations. When used to control platforms/minilifts it can be set to operate either with manual, automatic or mixed call push buttons.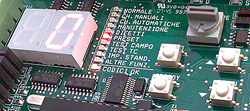 AM2 has a simple and intuitive user interface, thanks to the integrated menu selector you can quickly and directly manage a lot of functions: set the system parameters, analyze the fault list, register calls, start automatic sequence of calls for testing, manage the inspection operation, check the operative status of alert messages (via SMS and Email), check the GSM network signal, reset the factory settings with three different default configuration tables, perform some special operation such as manual rescue operation, overtravel test and others ...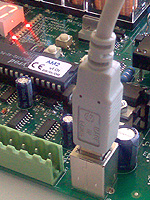 For a detailed analysis of elevator status and system settings AM2 can be connected to any PC directly via the integrated USB port. Today computers, especially laptops, do no longer have serial ports, standard now abandoned in favor of the faster USB connection. AM2 solves this problem by providing direct USB connection, system setting can be achieved by simply connecting the USB port to the PC so that the AM2 board is powered on and it's memory can be quickly adjusted.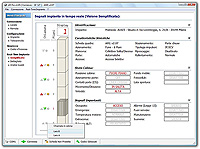 LiftPro software can be installed on any PC, used for the adjustement of memory setting and for monitoring elevator status locally or remotely (via internet, LAN or GSM). System parameters are fully described and can be quickly set, files of memory setting can be simply managed, fault list can be analysed and saved on the PC ... all in a simple and intuitive way.
-
Operating modes: APB, minilift/homelift, down collective or full collective.
-
Hydraulic or traction elevators:

- APB operation upto 8 floors

- Platform/homelift with manual, automatic or mixed push-button upto 4 floors

- Down collective upto 4 floors

- Full collective upto 3 floors

-
Direct management of main inverter models available on the market (OMRON, SMS, KEB, SANTERNO, GERFRAN, PETERLONGO).
-
Memory adjustement of elevator parameters via display, buttons and rotary switch on-board or via PC (USB port) or in remote mode(via internet, LAN o GSM).
-
Real-time monitoring local or remote (via internet, LAN or GSM) of elevator status (graphic view of hoistway and car) and main signals (inputs/outputs, registered calls, car movement, position, doors status).
-
Fault list with storage of the latest 32 faults.
-
Fault alarm messages via SMS/Email (each fault can be singly enabled).
-
On-board help system to know more informations about the status of the elvator (shown with code numbers on the display when the 'dato' button is pushed).
-
Inspection operation directly from the control panel with board buttons. Inspection speed programmable high, low or midle for speed regulators.
-
Multi-purpose input/output can be set to have more functions.
-
Re-levelling system with maximum time programmable.
-
Double door side programmable at each floor.
-
Hoistway magnets layout can be set to have 3 couples of close floors, very close floors or with different slowdown.
-
Automatic, semi-automatic or manual operated doors.
-
Car parking with opened door or closed door programmable. Door operator always ON during car movement programmable.
-
2 floors programmablewith door status in parking mode opposite to the main one (closed or opened).
-
Discrete wiring (one wire per floor) for car position indicators.
-
One serial output programmable to drive directly a display with only a wire.
-
Binary or Gray outputs encoding for car position indicators.
-
Dublex elevators with simple two wire connection between two AM2 boards. Group elevators with CM expansion board upto quadruplex. Max 8 floors for both cases.
-
Password code and travel number protected programmable.
-
Emergency operation programmable both for hydraulic and traction.
-
Fire service (phase 1) and Firefighters service (phase 2) with 2 programmable floors in compliance with EN 81-72 (Firefighters elevators) and EN 81-73 (Elevators operation in case of fire) standards. American fire/firefighters service available.
-
Independent operation.
-
Elevator reset in case of power failure automatic or manual.
-
Installation operation and automatic calls for testing.
-
Manual rescue operation directly from the control panel.
-
Overtravel test programmable.
-
Position number starting with negative numbers (undergrounds).
-
Car in use and APB landing registered call signals fix or flashing programmable.
-
GONG pulse on slowdown or at landing with 1 or 2 pulse going down programmable.
-
Immediate leaving of a floor pushing car call buttons (waiting time reset).
-
Movable platform with upto 3 contacts (car in use, full load, overload).
-
Automatic return of the car to bottom floor after 15 minutes from last service programmable.
-
Automatic car homing to a programmable floor after a time from 0 to 990 seconds (16,5 minutes).
-
Magnetic tape layout for hoistway switches of two types: IF/ICV or ID/IU programmable normally opened or closed.
-
Normal or long slowdown programmable for slowdown longer more than half floor.
-
Valve controls: Beringer/Bucher hydraulics, Up valve, Soft-Stop.
-
Star/delta contactor drive system available.
-
Permanent faults (that can be reset only by manually pressing a button on the board): maximum travel time exceeded, over-travel, motor temperature to high, safety circuit by-pass module check failed, relevelling error, reduced pit and headroom error.
-
Safety circuit by-pass module check programmable.
-
Alarm sequence (Italian Law 13) and battery charger on board.
-
1 general purpose timer programmable.
-
Inputs active to ground protected upto 24V voltages.
-
Outputs fully protected from short circuit without time limits.
-
Outline dimensions: 14,7 x 14,7 cm